You are currently browsing the monthly archive for January 2011.
As surprising as it sounds, studying "double-abroad" for a semester in London, UK, while studying full-time in Boston, USA, has helped me rediscover my connection with Bulgaria and with my family in many new ways.
As I was strolling about South Kensington last week, I happened upon the most beautiful tri-colored flag fluttering above the door, on the side of which there was a golden plaque saying Embassy of the Republic of Bulgaria. What a nice surprise to find out that my Embassy was right next door to me during my stay in London! I wouldn't have thought about looking for it myself.
Yet the feeling of comfort at the sight of my national flag was nothing compared to the feeling of comfort when I met with my cousin, Petra. Petra bears the name of my father's mother, and I – that of his grandmother.
Petra just completed her undergraduate degree here in London, and is now looking for a job in the non-profit sector. Because both of us study abroad, we rarely saw each other in the recent years. It was amazing to hear how similar our stories about living and studying abroad sound, and how we both try to popularize the Bulgarian culture and history among our friends. Maybe she too should start a blog.
The highlight of our reunion was when Petra and I went to a folklore dance class at the Embassy.  It is a beautiful building and an arts gallery. We danced in the main hall, surrounded by contemporary Bulgarian paintings, right in front of the grand staircase and a golden Bulgarian Coat of Arms. There were ten-fifteen dancers, both beginners and almost-professionals, and one instructor. We danced to some of the most famous national folk songs. At one point, we were all dancing the horo and singing "Имала майка едно ми чедо, едно ми чедо Никола" (see the video). At this moment, I was sure that everyone felt very patriotic!
The dance classes at the embassy take place every Thursday and Friday from 7:30pm. Usually, both Bulgarians and foreigners of all ages attend. It's a great way to celebrate the Bulgarian folklore and to get a good work out!
Check out the official website of Boiko Andonov, a  Bulgarian folklore dancer and choreographer in London.
On the first day of my class IR405: European Institutions and Enterprises, someone said: "I don't get how the EU functions: it has a common currency, but it is comprised of different countries. I don't think it will last."
It was Churchill himself who proposed that there should be "something like the United States of Europe." Well, my dear American friends, the European Union is nothing like your United States.
The EU is a common market, which means that there is free movement of goods, services and money among its twenty-seven member states, and what's probably more interesting for you and me, citizens of the EU can travel freely, work, and live in any of the EU countries. Thus, you can find an Easy Jet flight from London to Milano for only €33. With its federal character, the EU is similar to the US, but its political structure is invariably more complicated and its population is more diverse. That is, the EU is comprised of very distinctive societies.
Take the euro coins for example. They all portray the map of Europe on one side, but have different national designs on the other. These are seventeen special designs that feature the national symbols of the seventeen countries that have adopted the euro, and thus belong to the European economic and monetary union.  The euro design testifies that although we are economically and politically linked, Europeans are still to a great extent nationalists. This is why you wouldn't hear a foreigner in the States say "I'm European," but rather "I'm French" or "I'm Polish". Interestingly, I've noticed that many Americans in London introduce themselves with "I'm from LA" or "I'm from Jersey," which means that you too have greater allegiance towards the smaller political and economic unit that defines you.
Despite EU's efforts to become more like "united states," there is one giant obstacle: language. There currently are twenty-three official languages in the EU and many more unofficial ones. There is no common language policy, although every country encourages learning multiple languages (in Bulgaria, learning a foreign language is obligatory since elementary school , and most students take on a second foreign language in high-school). Open a euro banknote and you will notice two alphabets: the Latin and the Greek; when Bulgaria adopts the euro on Jan 1, 2013 (if we survive 2012, that is), a third alphabet will be added: the Cyrillic alphabet.
Another reason why Churchill's idea might fail is the EU's cultural and social diversity. Of course the USA is not at all less diverse than Europe (Fancy me and imagine a stereotypical Texan with leather cowboy boots and a bolo tie sitting next to a preppy Boston lawyer in a Starbucks).  Still, in the States, different cultural groups have developed across vast territories due to great differences in climate, geography and lifestyle. In Europe, you can find very diverse populations in a very small area.
Naturally, major cities both in Europe and the States are affected by globalization, which allows cultures to permeate each other: only in South Kensington, there are so many Italian pizza restaurants, French patisseries, and Japanese sushi places. But the diversity of Europe is even more evident as we move away from the urban centers. The way people live in South France is very dissimilar to the way they do in Bavaria and is worlds apart from the way they do in Romania. There are different traditions, different professions, different levels of economic development, different worldviews. It is nothing like in the States where people speak the same language, watch the same TV, talk about the same politicians, and eat the same brand of ketchup.
You've already seen the proper and poised English; I encourage you to visit the hot-tempered Spanish, the practical Germans, the romantic French, and why not the hospitable Greek too. You might enjoy the different cuisines, fashion, stores, and entertainment, but don't forget to make a note of these differences because they might be the key to why the European Union might never become "The United States of Europe."
Interesting facts you will learn from this video:
Sofia (at that time called Serdika) is 1700 years older than Brussels.
Emperor Constantine the Great was considering Sofia for the capital of the Byzantine Empire, but eventually chose Constantinople. He said "Serdika is my Rome".
The oldest functioning church in Europe is St. George's Rotunda (326 AD). It is right next to the Bulgarian presidency.
In the 4th century, Serdika was the spiritual capital of the Christian world.
The Boyana Church frescoes are considered to be the portents of the European Renaissance.
At the age of 28, the Bulgarian architect Petko Momchilov won a competition against Gustave Eiffel.
The Square of Tolerance is a unique place in Sofia: within less than 300 meters, you can see temples from the world's four major religions: a mosque, a synagogue, a Catholic cathedral, and an orthodox church.
More steel was used for the construction of the National Palace of Culture than for the Eiffel Tower. The building was erected for the commemoration of 1300 anniversary of the founding of the Bulgarian state.
Sofia's motto is "Grows But Does Not Age."
It's a freezing Friday in London, and I just had an hour-long conversation with a Hungarian immigrant on a bench in Hyde Park.
I was sitting on a bench in front of the Albert Memorial in Hyde Park and reading Churchill's biography (yes, because I'm such a geek), when I heard the very polite and pleasantly foreign sound of "Excuse me, could I sit down?" I nodded, and as the girl was sitting down and taking a bite of her hot-dog, she mumbled "I'm very frustrated."
"Why are you frustrated?" I asked.
"When you arrive at Royal Albert Hall [the gorgeous round building across from Albert Memorial] very early before the show, they make you go to their restaurant upstairs and have a meal. But this restaurant is so expensive, and they make you go! I make good money, I'm not poor, but I wouldn't go to such a restaurant! All they think about here is money! This is the worst city I have ever been to because they turn everything into money-making!"
The Hungarian girl whose name I never learned was beautiful in a very typical Eastern European way. She had red lipstick and white glitter on her eye-lashes.  Her dark chestnut hair was diligently combed in a half-do. Her eyes were green. She was a belly-dancer. She lived and danced in several European cities, as well as in Maryland, USA. She was the apprentice to a belly-dancing teacher here in the UK. She now lived in London with her Hungarian fiancée.
"He loves the city. He works in banking, he goes out at 8, he works a lot, he travels a lot, he comes back late, on weekends he runs in the park – London is for him. I hate it. I hate the cold, I hate the rain. I miss sun and the beach," she said. When she finished her hot-dog, she had a cigarette: "All artists smoke," was her remark.
She said that everything in London is about money. People come here to work for a few years, earn a little fortune, and then go back home. People in Maryland were different; they were warmer.  But then, it's easier to get rich here than in the USA.
During the week, she rehearses, bikes, swims, and walks. On most weekends, she dances at weddings, bachelor parties, and other events. She earns well enough to pay some bills and have things of her own. She lives with her fiancée, so she doesn't need to pay rent herself, but she cooks and cleans the house, which is her way of sharing the burden with him.
She was interested in my studies. She asked if I liked the university and Boston, and I said that I love being around so many interesting people from around the world. I suggested her to take a dancing class at one of the nearby universities: like Richmond or Imperial College; it had never occurred to her.
I shared how surprised I was to hear Bulgarian speech every single day here in London. She responded that there weren't many Hungarians here.
When she asked me about the future, I told her that I was thinking of working in Europe or the States for a few years before eventually going back to Bulgaria. "Maybe you'll change your mind. You are very young," was her response.
"I feel  that I still have things to do here.  I want to master my belly dancing. I need probably two more years here. Then I might go back. Yes, I might go back when I turn 35."
***
This is not the first time I meet Eastern Europeans immigrants far away from home. Read my post "One Way Ticket to the States" about my encounter with an Illegal immigrant from Bulgaria who works as a pizza delivery boy in Boston.
These are not homeless people or rascals. They are part of the Orchestra of the Blind, and they play beautiful music around the streets of Sofia.
The orchestra was founded in 1922 by the Bulgarian Union of the Blind. At that time, it consisted of four violins, a cello, a flute, a clarinet, and a piano. They participated in numerous charitable concerts all over the country in order to raise funds for their organization.
Today, an additional function they have is to entertain the passers-by and, probably, to remind us that they are still there.
Every major city has a famous plaza with street performers and artists. In Boston, they are around Harvard Square and Quincy Market. In London, they are near Covent Garden, Neal Street, and Trafalgar Square.
But have you ever wondered what exactly street performers are? Are they a tourist attraction appointed by the city hall? Is this their full time job? Is it just a hobby? Do they do it because they really appreciate art or because they would otherwise have to beg?
I love street performers and always stop to watch them. But very often, I leave right away after the last trick, without leaving anything in their hat.
On the picture, the girl's chalk art says: "To make this picture beautiful, I need more colors – a drink and a cigarette – please do your best to make it beautiful. Any coin would be better than none. I hesitate to say thank you. "
Street artists can make a place really special. But they don't live on appreciation.
Greetings from London! My semester "further-abroad" has set off like fireworks (I'm an international student from Bulgaria at Boston University studying abroad in the UK)! For the next four months, I will share my views on the American and English culture from the perspective of a proud Eastern European.
One of my first lectures in London brought up a very interesting issue: what are the factors that define the seemingly similar American and British society.
As stereotypical as it sounds, the American society is defined by race even nowadays. How so? Open any tourist guide for any major city in the States and you will find suggestions for the top restaurants in Little Italy (NYC)/North End (Boston), the cheapest deals in Chinatown, the best Irish pubs in Southie (Boston), or how to avoid the black part of town.  Read through a few blogs, and you will find quite a few negative comments about the influx of Chinese tech-gurus and the always illegal-and-low-skilled Mexican immigrants.  It's no surprise that the prospect of having a black president evoked even more heated debates among Americans than the prospect of having a woman president, although other countries in the world have had female presidents or presidents from the non-dominant race long before the States. Electing Obama was not as controversial to the rest of the world as it was to the American society, which finally felt itself ready to overcome its deeply rooted racial reservations.
Race, on the other hand, has never been a segregating factor in the UK simply because historically, the British Empire extended to India, Australia, the Middle East, South Africa, the Caribbean, and North America.  Different races and cultures simply had to learn to coexist. Class was what defined the British society. Probably the only country in the world where social hierarchy is more important than that in Great Britain, is India.  To understand this social structure, simply take a tour of London: compare Chelsea and Kensington, whose mere architecture reminds us of the aristocratic past of that part of town, with the Docklands, which were the main source of wealth for the middle class of merchants; take a boat trip to the Greenwich Observatory to get a sense of the English scholars and intelligence strata;  visit London's exquisite cathedrals and churches to understand the importance of the clergy for the English nation. Today, the structure of the Parliament, the function of the Queen, and the aristocratic titles are remnants of the social segregation that the British claim to have left in the past.
Neither race nor class are issues in the modern Bulgarian society. This is probably because we don't have any other races besides the occasional black foreign soccer player, who usually becomes a celebrity for the girls in Sofia's clubs. We also dethroned our royal family a long time ago, with the arrival of the Communist government in 1946 (which is too bad because our royalties were actually part of a very powerful European royal dynasty, Saxe-Coburg and Gotha).  I think that what truly defines the Bulgarian society is money.
The face of Bulgaria's modern society was shaped after the fall of the Communist regime in 1898. This is when former members of the Party were able to receive portions of the no-longer- national enterprises and thus became successful businessmen.  Those who had connections appropriated various ventures and took control over entire industries. Notably, the insurance business became a synonym of the mafia. Today, these people are filthy rich. They are some of the richest people in Europe and are very well connected with their Russian mafioso counterparts and ironically, with the democratic government.  They have a culture of their own,  that of the porn-like chalga culture and the thick-necked businessmen, and comprise a separate social strata.
But then, there is of course the rest of society: the open-minded and ambitious young Bulgarians who make up one of the most vibrant and interesting European peoples.
Happy New Year 2011 to all of us! May it be better than 2010 and worse than 2012! 🙂
With the New Year along came the New President of Brazil, Dilma Rousseff. She is the first woman to ever hold this office, and she is half-Bulgarian!
The new head of the 8th economic power in the world and "the 16th most powerful person in the world" according to Forbes magazine is the daughter of the Bulgarian lawyer and entrepreneur Petar Rusev (Perdo Rousseff) and the Brazilian teacher Dilma Jane da Silva. Petar Rusev was from Gabrovo, but emigrated from Bulgaria during the political persecutions of 1929. Notably, he was an active communist and a friend of the Nobel Prize-nominated Bulgarian poet Elisaveta Bagriana.
The whole of Bulgaria followed the Brazilian presidential elections with bated breath and crossed fingers. Dilma's victory received as much media attention in Bulgaria as in Brazil. Truly, Bulgarians feel tremendously proud that someone who we consider very close to us has earned the trust of the entire Brazilian nation and has been elected to the position of one of the world's top leaders.
The best of it is that the warm feelings seem to be mutual. During an interview in October, Dilma Rousseff said that she "feel[s] tenderness and love," for her father's homeland Bulgaria. The 36th Brazilian president has definitely not forgotten her origins. During the last days of 2010, Dilma received the Bulgarian official delegation headed by the Prime Minister Boyko Borisov, who presented her with her father's family tree.
Dilma's candidacy and election caused quite a media frenzy in Bulgaria. Our TV and newspapers closely followed her 2010 campaign. The citizens of Gabrovo even compiled an exhibition called "Gabrovo Roots of the Brazilian Presidential Candidate Dilma Rousseff" in the town's historical museum. Her relatives from the Rusev family have already collected old photos and memories from her father's youth. They are awaiting her visit, which will most probably take place this year. Dilma's aunts said that they are excited to meet the Rousseffs and to fill in the missing names on the Brazilian branch of the family tree.
*
A recent article in The Economist expressed surprise that Bulgarians are cheering for Dilma's election. After all, the article said, Hungarians' didn't claim that Nicolas Sarkozy was one of their own when he became the French president, so why should we. The European media calls the Bulgarian sudden interest in the Brazilian politics "Dilma's fever".
Do you think that it is silly for a small country like ours to celebrate the achievements of those who share, at least partially, our common heritage?
I agree that our interest is a bit of an overreaction. The fact that everyone here knows about Dilma's origins, but hardly anyone knows much about her party or policy speaks enough. But after all, Bulgaria does not claim that this development will have any effect on our countries' foreign relations.. or maybe it will, I don't know!  But in response to the skeptics, I would only say that I think the Bulgarian reaction is just a testimony of how important family relations and blood connection are to Bulgarians. Plus, we are happy that Dilma is not one of the many immigrant descendants who turn their back to Bulgaria. In the end, we don't expect any favors and don't want anything from her.
Related Articles
The stats helper monkeys at WordPress.com mulled over how this blog did in 2010, and here's a high level summary of its overall blog health: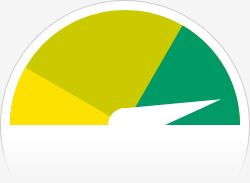 The Blog-Health-o-Meter™ reads Wow.
Crunchy numbers
About 3 million people visit the Taj Mahal every year. This blog was viewed about 27,000 times in 2010. If it were the Taj Mahal, it would take about 3 days for that many people to see it.
In 2010, there were 109 new posts, not bad for the first year! There were 199 pictures uploaded, taking up a total of 158mb. That's about 4 pictures per week.
The busiest day of the year was September 21st with 2,590 views. The most popular post that day was Why Do Americans Have So Many Types of Breakfast Cereal?.
Where did they come from?
The top referring sites in 2010 were wordpress.com, facebook.com, twitter.com, bu.edu, and blogger.com.
Attractions in 2010
These are the posts and pages that got the most views in 2010.
1
Why Do Americans Have So Many Types of Breakfast Cereal? September 2010
160 comments and 63 Likes on WordPress.com
2
Eurovision is coming up hoooray! February 2010
3
Sex and Watermelons in Bulgarian Pop Culture July 2010
4 comments
4
Henna Painting January 2010
5
About January 2010
15 comments